The Art of Isabelle Truchon
Inspiration comes from the musings of my observations and impressions. Each piece offers a glimpse into the narrative of my experiences during my journeys.
My work looks towards the beauty and serenity that surrounds me. The splendor and peacefulness in creatures and nature. The seemingly simple, yet intricate essential qualities of how life comes to be, how it purely exists, and how sometimes it's tainted, yet still beautiful.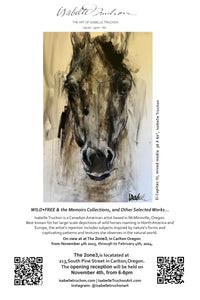 Wild•Free & Memoirs Collections
Join me on November 4th as we open my latest exhibit with an artist reception at THE 2one3 at 213 South Pine Street in Carlton, Oregon. A matinée will be held from 2-3 pm with activities and an art cultivation session, the artist reception will be from 6-8 pm. See you then!
The show runs until February 4th, by appointment only.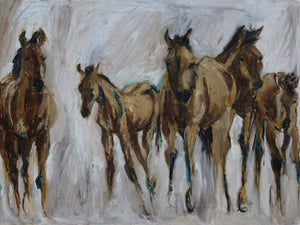 ROAM
Join me and gourd artist Reetsie Fuller at McMinnville's Senior Center Opening day, Thursday November 9th from 5-7 pm. My ROAM collections and a my very special "LOLA" piece will be featured!
The show runs until December 21st.
As Seen In Sonoma County's "Hourse Journal", Fall 2022 Edition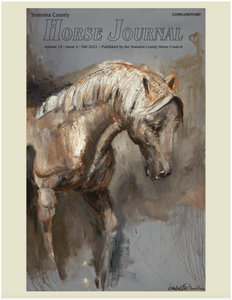 Wanderer, oil on canvas, 30 X 60"
Wanderer is inspired by the spirit of courage and strength required to answer the call of the heart. The wanderer experiences life from a different perspective, does not follow the herd, and comes and goes as the wind blows or necessity pulls. The wanderer is beautiful, free, and filled with rich life experiences, appreciates solitude and thrives in a world where most feel threatened.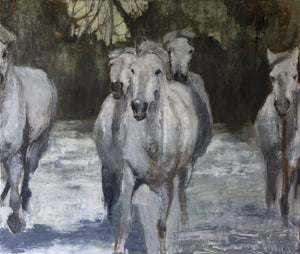 Wild • Free
" Camargue...I come here for the white horses. The ones I love to paint. I come to observe and experience their wonder; movement, instinct, agility, adaptability, and perseverance. And perhaps through my observations of them, I will learn something about myself..."
SHOP THIS COLLECTION
Art Classes with Brady Therapeutic Riding
As part of my efforts to give back to causes dear to me, I've partnered with James S. Brady Therapeutic Riding. This organization focuses on bringing an alternative physical and social therapy through horsemanship and riding lessons to youth with special needs in the San Francisco Bay area.
LEARN MORE
View & Shop Complete Collections
---
Testimonials
"When I saw Isabelle's work, I was so moved. There is a special energy that she paints with...and it's just what I wanted to provoke. People are in amazement."
~Sheila Johnson, co-founder of BET, CEO of Salamander Hotels and Resorts
"Storm, Being, and Iconic each have such energy and presence, and I am thrilled to bring them into my home."
~Stephanie D., Washington DC
"Truchon's passions and emotions fully inhabit the beauty and ambitious scope of her work. She is a multi-media artist; oil painter, sculptor, and film director, whose integrated creations transform, transport, educate, entertain, and inspire."
~Keith Patterson, Clark Monthly, May 2019
"Our painting arrived today and its even more beautiful than we imagined! It looks perfect in our space!"
~Jim and Mari M., Florida
"Words cannot express the emotions I am feeling after receiving this beautiful piece from the spectacularly gifted and talented Isabelle Truchon. Thank you Isabelle, for this."
~Stefan F., Virginia
©
©ISABELLE TRUCHON / The Art of Isabelle Truchon All Rights Reserved 2023
No reproduction of Isabelle Truchon's work, in any form, may be reproduced without express permission of the artist.